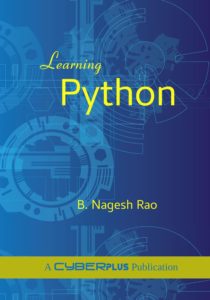 "Learning Python", the first book to be published by CyberPlus and the first book to be written by Nagesh Rao, is now available all across India and all across the world!
Indian Edition
Those who know the author personally and wish to obtain signed copies of the book may call Ms. Chethana on +919901774548 to place orders.
Indian Edition is available across India from www.amazon.in/Learning-Python-B-Nagesh-Rao/dp/8193392302 (thanks to our online distributor, Tata Book House)
Bulk copies can be purchased directly from us (contact Chethana on 9901774548)
Book shops and retailers can contact our distributor, TBH Publishers & Distributors
Engineering colleges across Karnataka can obtain copies from our college distributor, SK Publishers & Distributors
International Edition
More details on the book can be obtained at www.learningpython.in.